MARKETWATCH REPORT ON SAN DIEGO HOME SALES BY ZIP CODE



San Diego home prices listed by zip code

Marketwatch zip code home sales report
The North San Diego County Association Of Realtors collects monthly data on our housing market and creates the San Diego Zip Code Home Sales Report.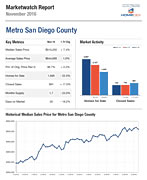 Get monthly real estate sales data by zip code!
The information in the San Diego Zip Code Home Sales Report is broken down by North County, Metro, East County and South County. This comprehensive report also shows the number of sales, the median sales prices (middle) and the average sales price in a clear, easy-to-read chart for every zip code in San Diego County.

In addition, the San Diego Zip Code Home Sales Report displays the percentage of list price received, days on the market and number of closed sales. The inventory in months is also presented. This report makes it easy for you to spot trends in our San Diego real estate market based on zip code.


Sign up for this important San Diego real estate report!
If you own a home in San Diego County, protect your investment by tracking the San Diego Home Sales Zip Code Report. Complete this form to receive the free e-mail report each month.









Would you like to learn more about the San Diego economy?

Click here to see other San Diego real estate and economic reports.